Once again this year, the Weltmuseum Wien is celebrating the Mexican Festival of the Dead, known as the Día de los Muertos, in collaboration with Mexican artists and other partners. The deceased are remembered and honored in a solemn atmosphere. In the Hall of Columns we invite you to the procession and the presentation of the altar of death (altar de muertos) created especially for the Weltmuseum Wien. Furthermore a colorful Mexican cultural program awaits you.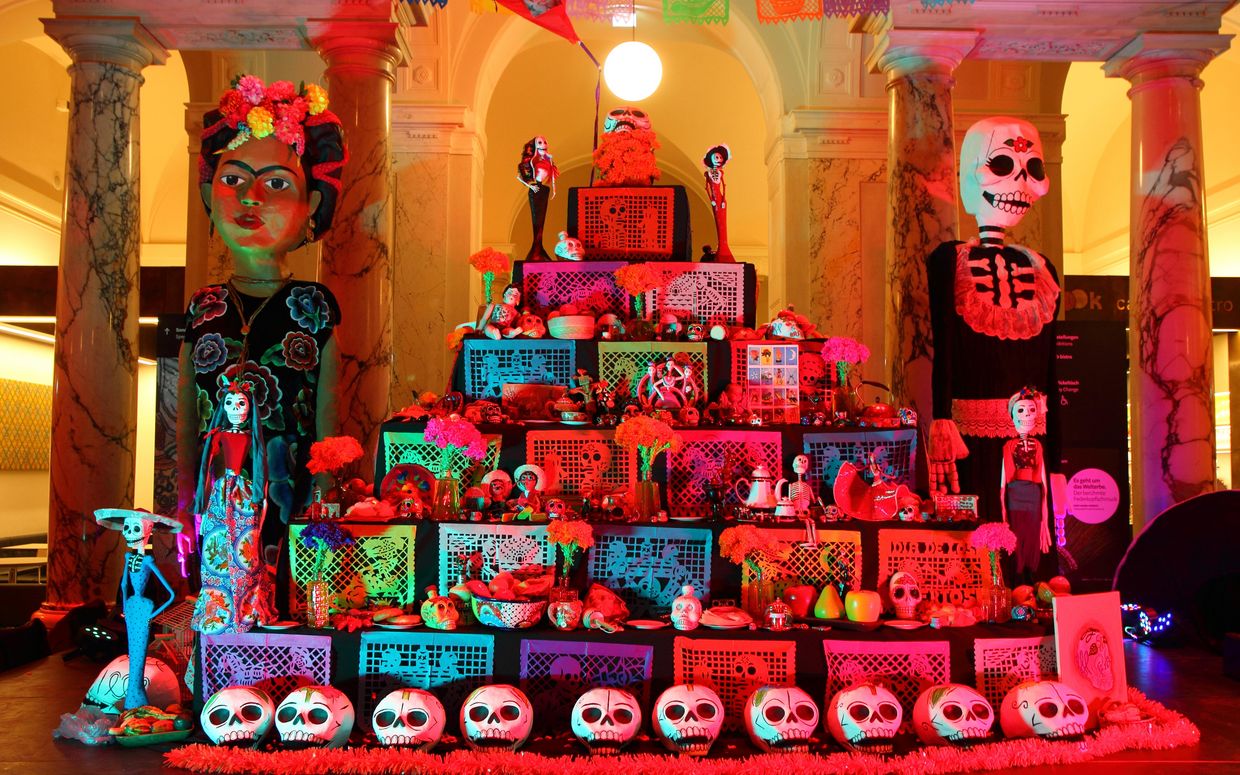 Traditions
The Day of the Dead is not a funeral ceremony, but a colourful festival in honour of the dead. According to popular belief the souls of the deceased return to their families on these days to visit them. During those days the memory of the deceased is in the foreground
The streets are adorned with flowers, skeletons and skulls in the most different versions are standing in the shop windows. Pastry shops produce especially for this time of the year the Calaveras de Dulce, skulls made of sugar, chocolate or marzipan, that bear the names of the dead on the forehead. The Pan de Muerto, the skull bread, is another popular treat these days.
The altar of the dead
The Ofrendas, traditional altars of the dead or offering tables in the apartments are the centre of the festivities. They are covered with plenty of food and drinks, flowers and personal memorabilia. After their long journey, the dead should regain their strength from the realm of the dead and take some of the gifts back with them. Photos of the deceased, candles and incense are to remind of common times.
On the night of November 2, the souls of the deceased are received in the house, followed by farewell in the cemeteries. There they will eat food they have brought with them, drink, make music and dance. At midnight the time has come for the deceased to return to the afterlife. The festival is over until the dead return next year.