Penacho: splendour & passion
The Mexican feather head-dress in Vienna
15 November 2012 to 2 November 2014
Is this feather headdress, as many continue to claim, really in some way connected with the legendary Aztec ruler, Montezuma? Was this the headdress worn by a high-priest while performing ritual sacrifices or making offerings? Who brought it to Austria, and why? These are only a few of the many questions, myths and legends connected with this precious artifact.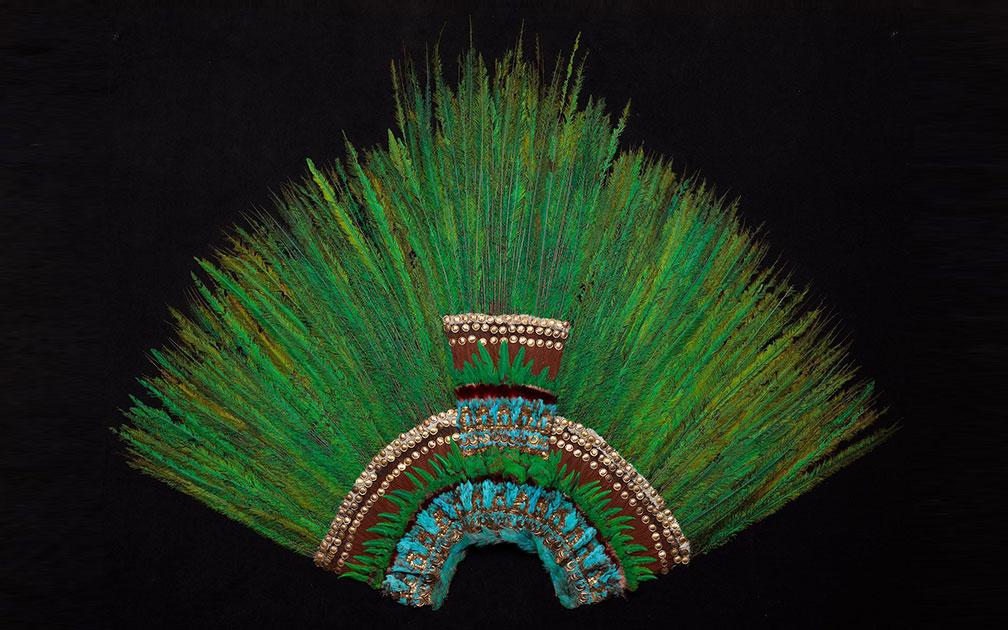 In addition to the penacho – as the only extant example of its kind it is of particular importance – the museum houses a number of other precious Pre-Columbian or early colonial Mexican feather objects, among them an Aztec feather shield, a bishop's lappet, a feather-picture depicting the Virgin Mary with Child, and one showing St. Jerome in the Wilderness. These two mosaics are composed of countless multi-coloured feathers of Resplendent Quezals, hummingbirds, Aras, Cotingas, Roseate Spoonbills and flamingos.
For the first time these feather artifacts are on show together with the penacho in a special exhibition.
This is what we know for certain: the headdress is first mentioned in 1596 in an inventory of the estate of Archduke Ferdinand II of the Tyrol that listed his collections of armour, artifacts and natural wonders at Ambras Castle as "(…) an mörischer Huet(…)" (a Moorish hat). Later, in the early 19th century, the headdress, together with many other objects from the collection at Ambras, was removed to Vienna.
As part of a collaboration between Mexico and Austria the feather head-dress has now been comprehensively cleaned and conserved. These measures have greatly enhanced the green and blue iridescent splendor of this headdress comprising feathers of the Resplendent Quetzal and over a thousand small gold plates.